37th Sanremo Historic Rally, Lucio Da Zanche fifth win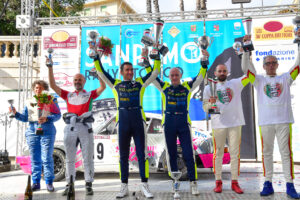 SANREMO (IM), 15 October – Continuing a tradition that lasts since the year 2001 (victory of Paolo Duberti-Lucia Dominoni) also in the 2022 edition of the Sanremo Historic Rally on the platform plays the Italian anthem. The Ligurian race, valid for the FIA European Historic Rally Championship and the Italian Historic Car Rally Championship, is in fact lived on the duel between the Porsche 911 Carrera RS of Lucio Da Zanche-Daniele De Luis and that of Angelo Lombardo-Roberto Consiglio. Quite different was the attitude of the two crews at the start. Da Zanche, back from a season that saw him at the start in only two other races, set off with the declared goal of winning the rally, consolidating his record of victories, which came to five with the 2022 success, ennobling a season that until now had given him little satisfaction. Angelo Lombardo's attitude was different, coming back from six overall successes in the seven previous competitions in which he participated in 2022, already the Italian Second Grouping Champion, w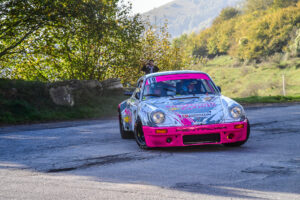 ho only needed to see the finish line to win the overall Italian title, with the obligation then to run a cautious and shrewd race. Especially for a Sicilian driver fight never ends, and after the first five special stages conducted with caution, still occupying the second place in the overall standings, in the last stage on Friday, the legendary Langan of 19.5 kilometers, Lombardo put away any reluctance and went on the attack, scoring the best time.
At the end of the race Da Zanche and Lombardo divided the special stage victories, five to the Valtellinese and six to the Sicilian, closing the 37th Rallye Sanremo Historic Rally with Lucio Da Zanche-Daniele De Luis, winners of the race, on the top step of the podium and Angelo Lombardo-Roberto Consiglio second at 8″3, and overall champions. Next in the overall classification of the race closes Oreste Pasetto with Michela Graziato in a Porsche 911 SC of Second Grouping who managed to outsprint, in the second part, the best of the foreigners Ville Silvasti with Risto Pietiläinen at the pace notes of his Lancia 037 Rally who took care more than anything else to collect points for the European thus consolidating his leadership of Fourth Grouping in the continental championship. They were followed by two other Italian crews, formed by Ermanno Sordi-Maurizio Barone, Porsche 911 SC RS, then Enrico Volpato-Flavio Zanella, Ford Escort RS, who preceded local driver Maurizio Pagella, with Francesco Zambelli in the right seat of his Porsche 911 SC. Of the 66 crews that started Friday morning, 49 finished the event.
The 36th edition of the Coppa dei Fiori regularity race went to the Swiss Christian and Elena Bonnet, in a 1961 Alfa Romeo Giulietta TI, who preceded the Lancia Delta of Paolo Concari and Cristiano Androvandi, who were one penalty ahead of the Delta Integrale of Marco Gandino-Danilo Scarcella.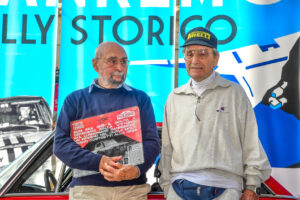 A Plaque for Amilcare. The prize-giving ceremony of the 37th Sanremo Rally Storico was preceded by the presentation of a souvenir plaque to Amilcare Ballestrieri and Arnaldo Bernacchini, in memory of their success in the tenth edition of Rallye Sanremo in 1972; their Lancia Fulvia HF was beautifully displayed on the arrival platform placed in front of the Casino. Celebrating Amilcare were his co-drivers of the time: in addition to Arnaldo Bernacchini, Piero Sodano, Daniele Audetto, Silvio and Sergio Maiga were all in the souvenir photo, as well as Gianni Tonti, then technical manager of the Lancia team, Urbano Rattazzi, FIAT driver of the time, Renato Ronco, who in those days was recounting the exploits of the rallyists, and Claudio Berro, rally driver and team manager in the years immediately following Ballestrieri-Bernacchini's success.
On the website www.rallyesanremo.it you can find all the rankings and information about the race enhanced by free-press photos by Foto Magnano