Rallye Sanremo explores the hinterland of western Liguria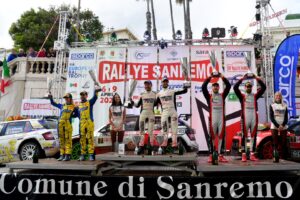 SANREMO (IM), Aug. 24 – Exactly five weeks and Sanremo will once again become the national and European capital of rallying, coagulating within the span of ten days four competitions that bring back memories of the competitive intensity of the golden age of rallying.
The four events, which will follow one another almost seamlessly, are first and foremost the 70th Rallye Sanremo, the seventh round of the Italian Absolute Rally-Sparco Championship, which will electrify competitors and spectators on Friday, September 29 and Saturday, September 30. The day of Saturday, September 30, will see the competitors of the 24th Rally delle Palme engaged on the same tricolor special stages, which will be able to experience an ideal long-distance confrontation with the champions of the rally valid for the Italian championship.
Only time to rearrange the ideas and the following week, Saturday, October 7 and Sunday, October 8, there will be a change of scenery by taking a leap into the past with the 38th Sanremo Rally Storico, valid as the eighth round of the European Historic Rally Championship, as well as the last round of the Italian Historic Car Rally Championship and the 37th Regularity Flower Cup.