Sanremo Historic Rally. Closing of entries on Wednesday, October 5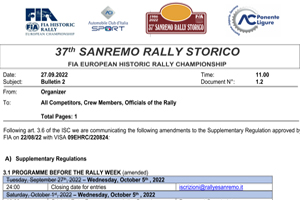 SANREMO (IM), 27 settembre – To give competitors in the European Historic Rally Championship a moment's extra breathing space, especially those returning from last weekend's Rally Elba Historic, the FIA has granted a one-week exemption to the closing of entries for competitors chasing the continental title. Therefore, entries for the 37th Sanremo Historic Rally will close for everyone (both FIA and non-FIA competitors) at midnight on Wednesday, October 5.
The rest of the event program remains unchanged.
Appointments of the October 13/15 races in Sanremo and Bordighera
37th Sanremo Historic Rally – Program
Tuesday, September 6: opening of entries
Wednesday, October 5: closing entries (FIA competitors e non FIA)
Thursday, October 13 (3-6 p.m.): Shakedown – San Romolo
Friday, October 14 (8:30 a.m.): first leg start Corso Imperatrice – Sanremo.
Friday, October 14 (5:45 p.m.): end first day. Closed Park Piazzale Adolfo Rava – Sanremo.
Saturday, October 15 (8:15 a.m.): start second day Piazzale Adolfo Rava – Sanremo
Saturday, October 15 (2:30 p.m.): arrival and awards ceremony platform Corso Imperatrice – Sanremo
36th Flower Cup – Program
Friday, September 16: opening of entries
Friday, October 7: closing entries
Thursday, October 13 (3 p.m. – 6 p.m.): scrutineering Piazzale Adolfo Rava – Sanremo.
Friday, October 14, 10:05 a.m.: departure Corso Imperatrice – Sanremo
Friday, October 14 6:45 p.m.: arrival first day Old Railway Station – Sanremo
Saturday, October 15 9:55 a.m.: departure second day Old Railway Station – Sanremo
Saturday, October 15 3:43 p.m.: final arrival Corso Imperatrice – Sanremo
23rd Rally of the Palms – Program
Friday, September 16: opening of entries
Friday, October 7: closing entries
Friday, October 14, 2-6 p.m.: scrutineering Parcheggio Piccola Velocità – Bordighera
Saturday, October 15 8:30 a.m.-12:30 p.m.: scrutineering Parcheggio Piccola Velocità – Bordighera
Saturday, October 15 2:20 pm.: start in Bordighera
Saturday, October 15 8:30 p.m.: arrival in Bordighera