23rd Rally delle Palme (Rally of the Palms), the charge of the sixty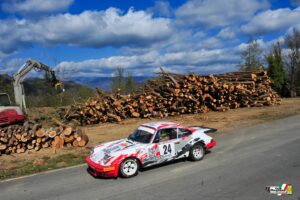 SANREMO (IM), 12 ottobre – It is wrong to think that in the ten months since his last race the rust has settled on his right foot. The drafters of the starting order for the 23rd edition of the Rally delle Palme, scheduled for Saturday, October 15, in the westernmost part of western Liguria, who assigned Sandro Sottile and his inseparable co-driver Marco Nari the number 1 to be affixed to the sides of their Škoda Fabia Rally2, did not fall for the trap. However, the fast local driver will not have an easy time given the competition from the 59 other competitors (six of them at the wheel of a Rally2 Class car) who have sent their entries for the race.
Fighting in all classes. After the seven Rally2s (five Škoda Fabias for Sandro Sottile, Fabio Federici, Paolo Benvenuti, Omar Bouvier, Paolo Curone, a Citroën C3 for Vittorio Cha and a Volkswagen Polo in the hands of Alberto Biggi) we will find the Subaru Impreza N4 of Silvio Leporace to then move on to the all ahead with two Clio S1600s, a Clio RS N3, no less than eight Peugeot 208s in Class R4, a rare Megane A7 and a Honda Civic RS Plus. Among the five Class N3 Clios, the confrontation in the Annovi family returns, with dad Roberto launched in pursuit of son Antonio. Opening the challenge of the three Suzuki Swift Boosterjet in Class Ra5H will be the very young Savona-born Alice Poggio co-driven by Valentina Briano, for the first of two all-ladies crews. They will be followed by five Clio Rally5s, two Peugeot 106 K10s, five cars in Class A6, as many in A5, ten in Class N2 category in which Cristina Campora and Alice Tasselli will compete. The starting line-up is almost completed: there is still room for a Volkswagen Polo RS 1.6 two Seicento in Class A0 and the Seicento Racing Start of Andrea Ottavi and Andrea Moirano, who with the number 72 will close the starts from Bordighera.
The last edition of the Rally delle Palme went to Ivan Ferrarotti-Fabio Grimaldi (Škoda Fabia Evo) in 42'44″0 who preceded by 1'21″4 the Škoda Fabia of Elio Cortese and Domenico Verbicara and by 1'54″6 the Fabia of Paolo Porro-Paolo Cargnelutti.
The website www.rallyesanremo.it has all the necessary information for competitors and spectators with all registration forms and declarations of compliance, as well as all race news, including programs and schedule of the event. The race's official Facebook page is also active at: https://www.facebook.com/RallyeSanremoOfficial/